Louisville is one of the top 10 food cities.

– National Geographic Travel
As a Louisville native, I grew up with a fascination for good food, good bourbon, and good times. Since my earlier years in Louisville, branching out to different cities, I've had colleagues and friends ask for recommendations for the best places in Louisville. I would swell with pride and recite Louisville being listed in the Top 10 Food Cities by National Geographic.
After reciting time and time again my personal favorites and most famed of Louisville, I thought it was time to make a small list of recommendations. Of course, many people know of the Kentucky Derby, but what are the places to go during the off-season?
Bardstown road and Baxter Avenue: this stretch of bars and restaurants is a rich center for entertainment for many people, both young and older. Home of micro-breweries, pizza parlors, and pubs, this place is a must see. If you're looking to Keep Louisville Weird, this is the place.
Butchertown: this is a well known culture landmark in Louisville, but has recently started to grow with a stronger interest for the modern. Butchertown is not only home to many upcoming places such as trendy doughnut shops, but also hosts the infamous Butchertown Oktoberfest and Butchertown Art Fair.
Frankfurt Avenue: galleries, bookstores, and trolley rides. How many other places let you bar hop and enjoy wine tastings while taking free trolley rides? Not many!
The Big Four Bridge: the new hot-spot popping up in Southern Indiana that has drawn both Louisvillians, Hoosiers, and Travelers to Jeffersonville, Indiana and its neighboring towns. The fastest growing area in Southern Indiana, soon to home the newest hotels and condos on this side of the Ohio River, has attracted many businesses and artists. Little speculation is needed once you see the Big Four Bridge and its neighboring attractions yourself.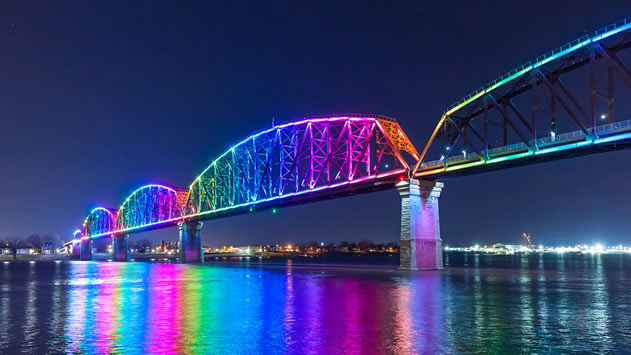 Downtown: with several places with a deep history with a touch of modern. Downtown is always a great place to explore. It's easy to find yourself somewhere between Bourbon lofts and troll pubs only to end the night at a late night pizzeria. One of the most well known attractions are located on "Fourth Street Live!" however, don't let it stop there, it's only one spot of many!